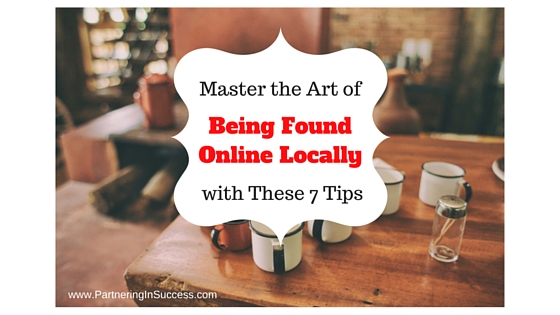 Do you want to be found online locally in your neighborhood?  Then it is time to start looking into search engine optimization as part of your online marketing efforts to be properly found within the search engines. By improving your online presence through SEO (and proper keywords) you will help enhance your rankings in search results. Additionally doing Local SEO for your business is very important because of mobile usage and location settings within Google's localized search parameters.
Below are 7  tips to help your business and website get found online locally:
Embrace Directory Listings
By creating a website listing on online directories you will help consumers easily locate your business based on the specific categories that may be listed. Such useful and highly effective directories include YellowPages, Moz.com, Angie's List and Yelp, amongst several others that are applicable to your industry/niche.
Optimize "My Business for Google"
Google offers "My Business tool" to help put your business data on search, maps and Google plus platforms. This will enable prospects and clients to easily find you online. You can do this by visiting Google.com/business to start.
Add Your Page to Facebook Pro Services
This is a novel feature from Facebook that lets users to search for local businesses without exiting Facebook. You can visit Facebook.com/services to find out how your page ranks. If you are not showing up as expected, simply go to your categories and subcategories listed on your Facebook page. You can optimize via the 'About' tab – 'Page Info' to proceed.
List your project on Foursquare
Foursquare is great and solely designed for promoting local businesses. You can use the foursquare app to feature your businesses online as this will help consumers to discover your services.
Create and manage a Locally-Centered Blog
Creating a locally-centered blog will help you become an authority on your business subject matter within your area. As a result, this will enable you to easily engage with local consumers and also improve your brand awareness within your community. This can be achieved by writing on anything about a local event, news, or how your business is involved in the community!
Manage Your Online Reviews Professionally
Do not neglect what is being said or written about your business online locally. This is especially important because more than 80% consumers trust online reviews to make buying or engagement decisions. You can optimize great reviews for your business through platforms as like Yelp, Facebook, and 'Google My Business.' If you find bad reviews on any of these channels, do your best to engage and take the conversation offline. People are interested in how you handle bad reviews as much as the good ones.
DO PPC
A Pay Per Click campaign on Facebook and Google is a great way to optimize your business online locally and be found quickly. This is very effective since you are paying the platforms to promote your business, and you get powerful targeting to the right audience who will take action. Keep in mind; however, you need to first determine the right keywords that your ideal client will use to find you.
In any of the above approaches remember to use the right keywords associated with your business. By taking this extra step, when they are searched for, you increase your chances to pop up first on the page! Want to learn more? Get my Keyword Marketing Secret report here.