Keywords are important to being found online.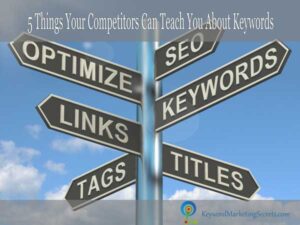 Do you feel like you are struggling online? – losing out on the huge opportunities that your business could benefit on the internet, because the competition for Google rankings amongst your competitors is so high?
The truth is that it really should cost you nothing but time to carry out some surveillance on your competition and see what they are implementing with keywords in your niche. These may be keywords that you have not yet thought of. With a well-planned and organized set of keyword phrases targeting your niche – you can greatly impact on your online marketing prospects.
Below I have highlighted some of the creative digital marketing techniques, with respect to keyword strategies, that your competitors may be using and which you use as well to capitalize on the available web traffic looking for your services.
Let's get started:
Your competitors use relevant keyword phrases, related to the offerings their business provides to their clients, in all their online marketing.
Many of your competitors may have incorporated their keywords into their website URLs to bring more attention to what they offer.
We all know that content is king, and with this knowledge – your competitors are likely using content marketing, rich targeted keywords, which may link to other sites, or to other content or offers within their website.
To more easily market to their niches, your competitors regularly use Long-Tail Keywords for effective Search Queries, especially when the audience is local (ie. Vancouver, Chicago, etc).
Your competitors also make use of their niche keywords on every social media platforms including, but not limited to Google+, Facebook, LinkedIn and Twitter.
Want to learn some additional tips to marketing online with keywords? Please click here to access my Keyword Marketing Secrets report, complete with examples.